Expertise in Design and Construction
Since inception in 1987, the Barrett Outdoors team of outdoor living professionals has brought attention to detail, construction and design expertise, and excellent customer service to all of their endeavors. New Jersey Home Improvement Contractor. Barrett Contracting of NJ, Ltd License #13VH04871400
The company brings to all projects over 80 years of combined experience in deck design and construction and a dedicated office team to keep communication open and flowing among all aspects of the business and our customers.
The Barrett Outdoor process from inception involves dedicated time with the homeowners to understand their vision so the design team can incorporate their ideas into efficient designs that complement their home and fit their budget for the ideal customized outdoor living space.
The Barrett Outdoor construction protocol guarantees safer, stronger, and longer-lasting decks. Partnering with licensed architects for all new builds, the Barrett Outdoor team designs and builds projects at 60 lbs per sq ft. The industry standard building code calls for decks to only be built at 40lbs per sq ft.
In addition, Barrett Outdoors is proud to offer industry shaping warranties. Since the company's inception Barrett Outdoors has prided itself in offering stellar service before, during, and the years following each project's build.
The dedication to customer service and to the craft of carpentry apparent in all their projects has helped Barrett Outdoors earn prestigious awards and customer praise.
North American Deck and Railing Association Chapter and National Awards from 2009 to the present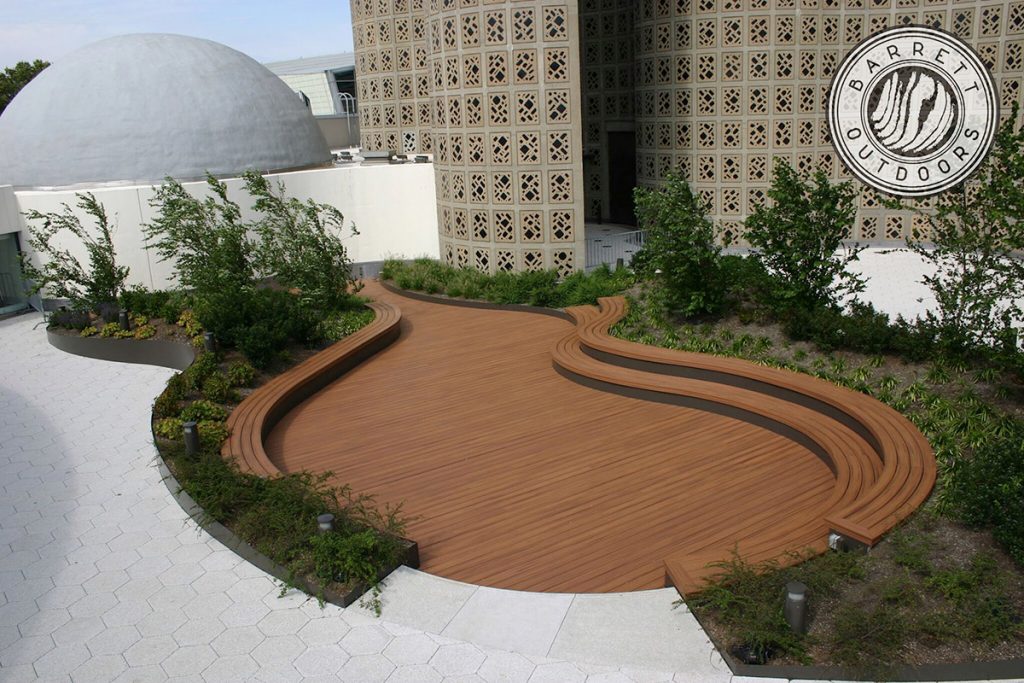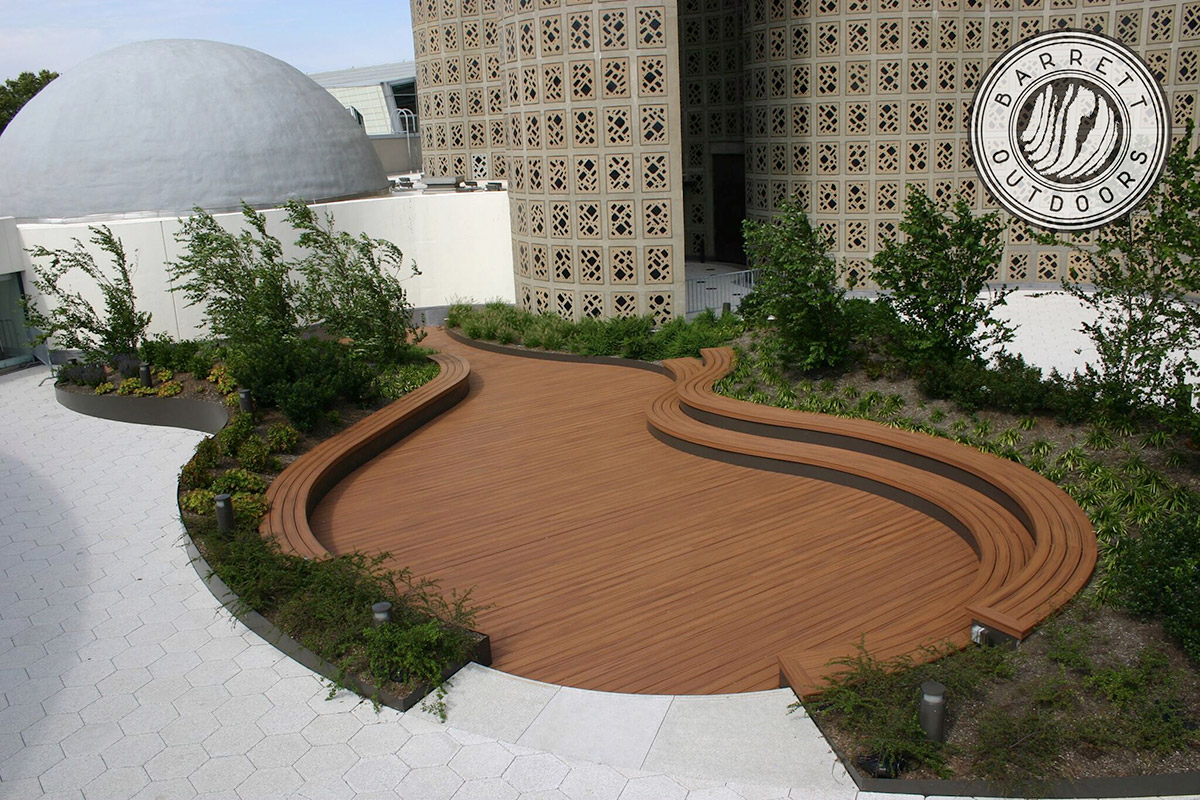 First Place Project, Hall of Science in NYC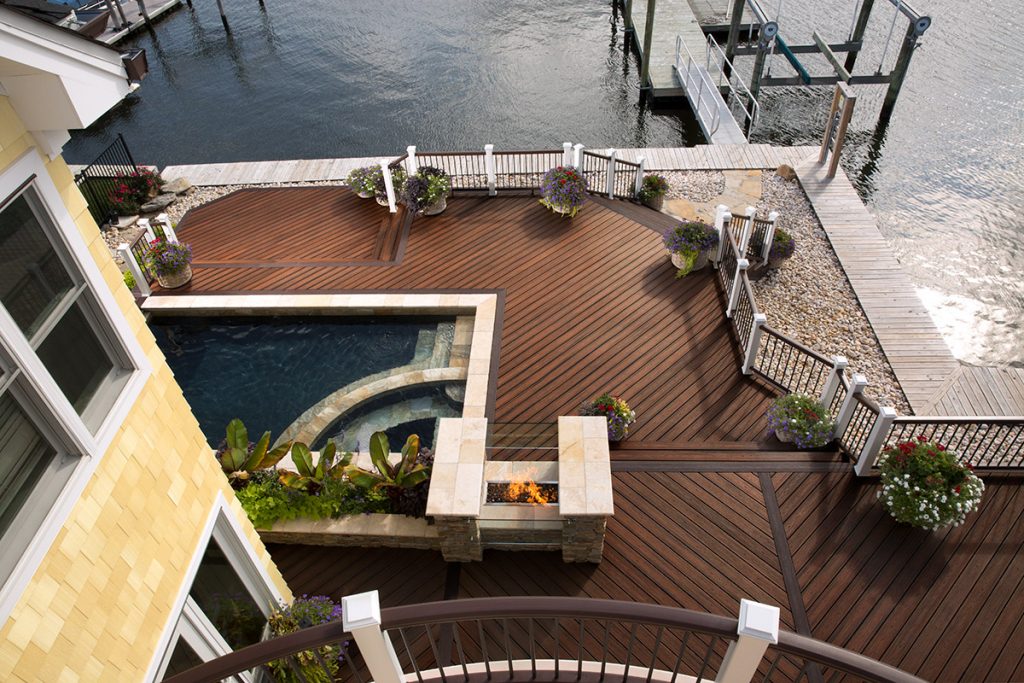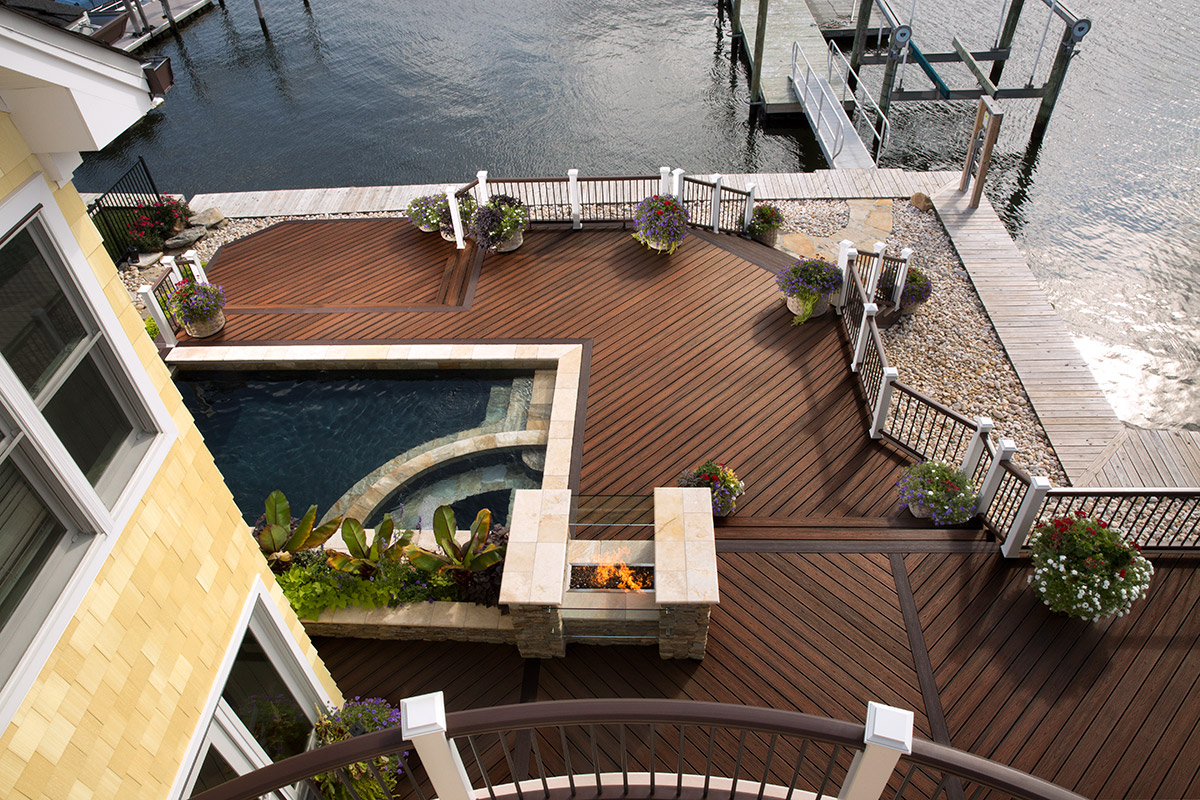 First Place Alternative Deck over $51K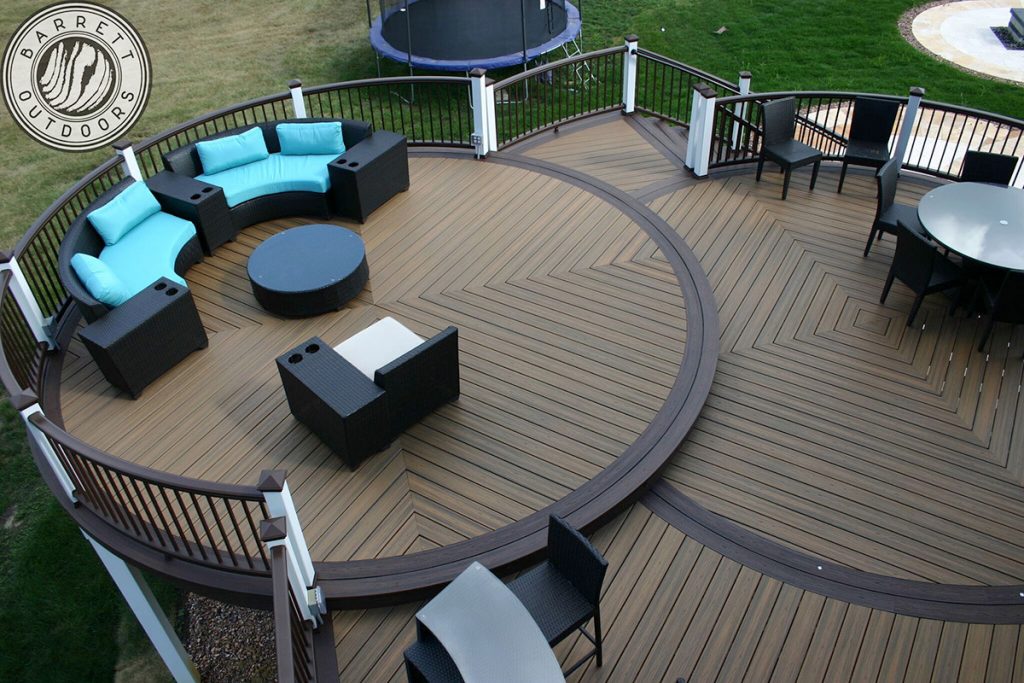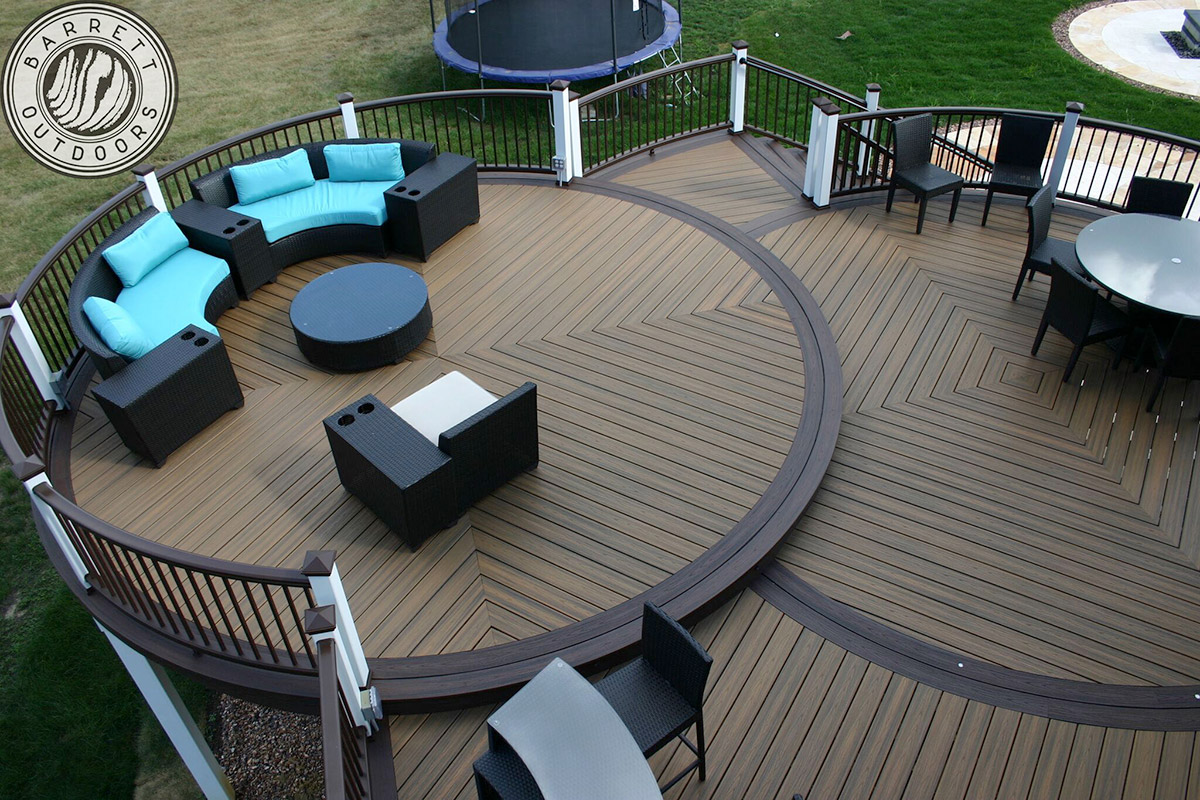 First Place, Unique Feature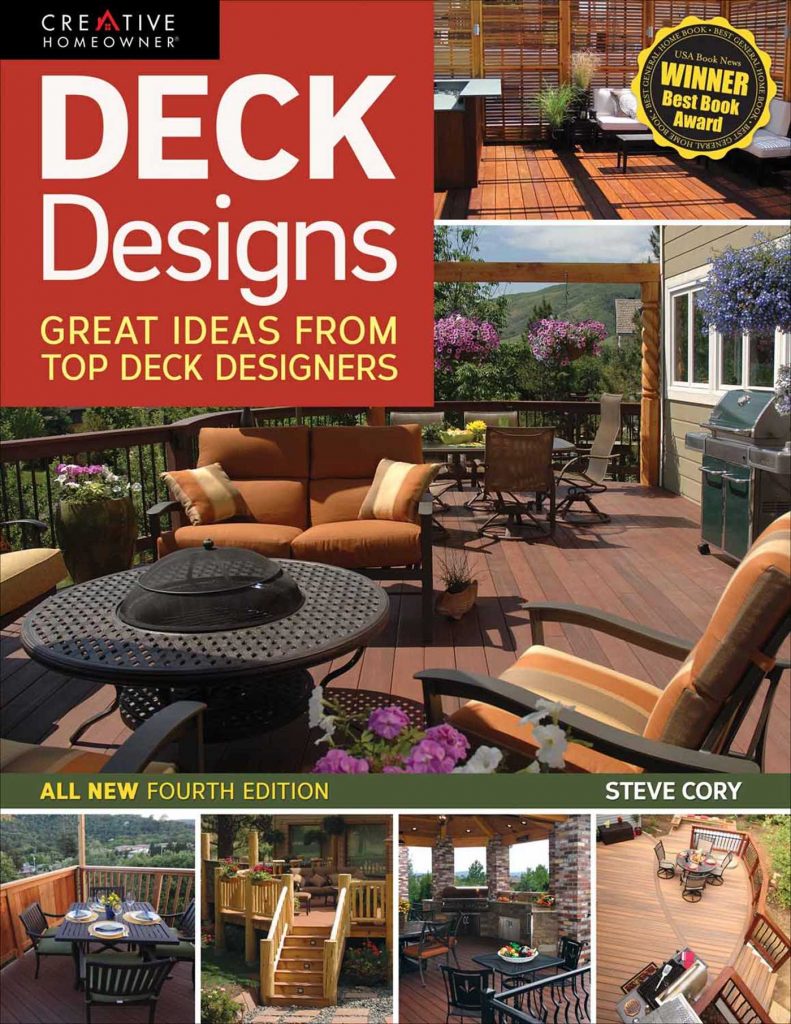 Featured in Deck Designs by Steve Cory 4th ed; 40 page spread in book awarded USA best book award
What Our Clients Are Saying!
Superb quality and professionalism! A joy to work with throughout the project (which btw completed early :-). The entire team - from design, to reconstruction, to cleanup - took extra care to make sure my new deck would be as great as possible within my budget. They take very well-deserved pride in their work.
Gustavo did a great job of designing our deck and communicating how the process would go. The quality of work was wonderful and the deck looks great. We did have an issue with the drainage/grating under the deck but Gustavo had his team out to fix it. Barrett Outdoors is the team you want for building your new deck.
If I could give more than 5 stars to Barrett, I would. Every stage of the transaction was met with expertise and professionalism I have rarely seen with a contractor, large or small. From their initial prompt response to my inquiry - to the smart design by Evan and Gus - to the amazing construction work by Gabbie and his superb team, I am just so incredibly satisfied with the outcome. My family and I now have a beautiful outdoor Trex retreat. To be clear, nothing about this job was easy - from removing the existing second story deck while working around an all-season porch and a built-in shed underneath - to the unusually heavy summer rains - to the supply chain oddities during the summer of 2021, the construction was completed timely and perfectly with little disruption to our family life. Finally - the office folks - Rosemary and Jasmine deserve recognition for always keeping me informed and up to date on the next steps. Bravo Barrett - for doing the best job possible!
Gustavo is an exceptionally good designer that works hard and stands by his product, service. He will go above and beyond to satisfy his customer. When unfortunate problems occur during the construction he is responsive to complaints and quick with solutions. I highly recommend hiring Barrett Outdoors for all your outdoor needs. You will not find a contractor that stands by his work like Gustavo.
We had a great experience with Barrett and would highly recommend. They were organized and the process was very efficient from beginning to end. Our deck turned out better than we had hoped for.
Beautiful craftsmanship & very professional! If you are looking for a reputable company then I highly recommend Barrett Outdoors!!
Barrett Outdoors was a pleasure to work with. Our project came out exactly as designed. A HUGE Thank you to Gustavo and his team for turning our backyard into a beautiful space our family will enjoy for years to come.
We are delighted to highly recommend Barrett Outdoors. Their workmanship, professionalism and customer service all get 5+ stars from us. Just yesterday my neighbor, seeing our new deck for the first time said, "This is the most beautiful deck I've ever seen—really!" And it is, indeed. Of course there were delays due to COVID, but Barrett kept us informed throughout, apologizing even though the situation was not their fault. Our fabulous deck was so well worth waiting for, and we are most grateful to them.
We are more than thrilled with how our backyard has turned out!! We were not sure exactly what we wanted at first but Gustavo and his team guided us to help to transform our backyard into a wonderful and beautiful space where we can now spend more time as a family and to be able to utilize our backyard to bbq, relax, hang out at the fire-pit, and relax under our new deck &b patio! Carlos and his crew were all wonderful and very helpful. They are masters of their craft! We would recommend Barrett Outdoors for anyone who needs work done and wants exceptional work ethics and craftsmanship!
Barrett Outdoors recently built a new Trex deck and a side entrance stairway for us. From the initial planning phase with Gustavo and office staff and Augustin and his crew executing on the project plan, the Barrett Outdoors team was extremely professional and pleasant to work with. They were easy to get in touch with whenever we had any questions about our project, which consisted of demolishing the existing structures and constructing new ones in their place. Barrett worked within the budget we gave them and met all established deadlines to give us a beautiful new entertaining space and stairs we were seeing. We highly recommend them!
Barrett was one of the best service companies I have dealt with. I had originally gone to the Trex website and vetted a few companies they recommended. The presentation and approach Gustavo made was clearly the best but you still never know. I clearly made the right decision. Gustavo was always straightforward, professional, and yet open to all ideas and decisions I made. The carpenters, Wilson and Carlos, were both masters. They moved carefully and always though out any possible problems. The results were spectacular. The items we added such as island, granite, grill, refrigerator, and cabinets were all great. We also collaborated on gates that turned out great. That said, I would recommend them to anyone and would absolutely use them in the future
5

Star Website Reviews
Did a good job and very professional. Love the look of my new deck.
Barrett Outdoors was very professional and highly communicative throughout the process. My deck is absolutely gorgeous!!
Excellent communication. Deck is beautiful. Trex Transcend Lava Rock is beautiful. We are very pleased with our Trex and Barrett Outdoors' installation.
Barrett Outdoors delivered on everything, as promised, Very professional job.
Great contractor. Did a wonderful job, would use again for future projects.
The team at Barrett Outdoors was outstanding, with an unsurpassed thoughtfulness to our design needs, budget and style. Gustavo and his team are so detail oriented and take a ton of pride in their work and the ultimate finished product. #topdesign
Overall terrific experience and couldn't be more happy of the outcome. It went from old raggedy deck to beautiful Trex. Great people at Barrett Outdoors treated us with kindness. We love it and used it so much this summer/fall season. Thanks again.
Worth the wait! Very good craftsmanship and I really appreciated the attention to detail. My floor feels solid and looks great; expected to last. The team was approachable and friendly. Pricing was fair. I've already personally recommended them to others.
Barrett Outdoor contractors were professional, clean, and knowledgeable. The office staff was wonderful with communication of job details as well. We would highly recommend working with Barrett Outdoors from start to finish!
We are more than thrilled with how our backyard has turned out! We are very pleased how Gustavo's crew handled and built our new deck. We love everything about it and we are already putting it to use!
I'm delighted to highly recommend Barrett Outdoors. Our deck needed to be replaced in the middle of a pandemic. They were thoroughly professional throughout, and their workmanship was exceptional.
Great company to work with. True professionals that made every step, from design to installation, very easy!! We love our new deck.
Very happy with outcome of project. Barrett Outdoors was a pleasure to work with! Would highly recommend them.
Excellent Job! Very professional! On time, fast, beautiful job!
Barrett Outdoors did an outstanding job with our deck. We highly recommend them to others.
Barrett Outdoor did an excellent job replacing our old wooden deck with Trex. I would highly recommend them as a contractor!
They did a wonderful job from start to finish. Everything came out beautifully. Would highly recommend them to anyone.
Barrett's service was exceptional. From the beginning of the design process to the end. I would definitely return for business and continue to refer to others.
Very happy with the finished project. All the workers were professional and did a terrific job.
Overall, we are very pleased with the work and enjoyed working with Gus and his team.
Our large deck project was handled with confidence and professionalism.
Several neighbors commented on how nice the deck came out. We are enjoying it!
I'd like to thank you and your team for the great work on our patio and deck. You took our vision and ideas from hand drawn sketches and made them happen. Even the integration with the fountain company went great. From the products used (Cambridge) to the end result you demonstrated quality. Thanks again for all of your effort.
I wish to commend your workmen on the quality of the work produced. They were extremely professional and did a very neat and clean job. My deck certainly looks wonderful and I am sure that we will enjoy it for many summers. If you need to use us as a reference please feel free to do so. Thanks again on a job well done.
While Barrett is more expensive than other deck contractors, the quality of our deck made the cost worth it. I was particularly happy with the details and care taken on the portions of the deck that don't show. Extra care was taken on the framing to assure that the deck surface was perfectly level and the railing was strong. The initial design meeting was also excellent. Sharing ideas, getting suggestions and discussing options helped greatly in getting the best deck possible. We are very happy with our new deck.
Barrett Contracting designed and built one great looking deck. They paid attention to detail and quality throughout the job. I was so impressed with the work I canceled my contract with a paver company that I have always used to hire Gus and his company. And the work performed was beautiful. The project from the start to the end was great. Quality and construction were great. And always very professional. Would hire Gus and Barrett Contracting in a second for another project.
Amazing work. Super professional. Nice guys to have around, too. We love it and would (and have already) recommend your company. Jonathan and Scott were amazing and efficient.
When it comes to Barrett's professionalism, courtesy, and value, no one else even comes close. I would definitely use Barrett again and am proud to recommend them without any reservations.
I am so pleased with the quality and finish of our new deck. I've already received compliments from the neighbors. The transformation is remarkable.
We are very happy with our new deck and pavers. All of the Barrett Contracting people we dealt with were professionals.
Barrett Contracting did an amazing job on our deck/patio! From beginning to end their professionalism, efficiency and knowledge was impressive! Gabriel and his crew worked extremely hard and were neat and showed quality craftsmanship. We would highly recommend Barrett Contracting!
Everything from beginning to end was absolutely great and just as promised. Everything went like clockwork and I now have two beautiful decks to enjoy. There is no doubt I would hire them again and recommend them to others.
They did a wonderful job. Neat, clean and on time!
Final finished deck looks great. Barrett showed excellent follow through and integrity.
We are very happy with our deck! Gus worked with us to design a deck that was within our budget. He and his staff are very professional. We feel very comfortable recommending Barrett!
What a pleasure it was to deal with such a professional company! If you are looking for a no-hassle, beautifully constructed job done, Barrett should be your first and last call.
We will surely use Barrett again and would not hesitate to recommend them to anyone. Thanks for a job well done!
Work professionally done by master carpenters. Customer's needs come first. I highly recommend this company.
After our first meeting with Gustavo, we knew that Barrett Contracting was the deck company for us! We love our new deck and highly recommend Barrett Contracting!
Excellent job! Extremely pleased with how quickly the job was started and completed. Very professional. Great workmanship. Highly recommended!
We are now enjoying our beautiful deck and patio. Everyone who has seen it (including our neighbors) has fallen in love with it. Thank you Gustavo, we will be enjoying our outdoor haven for years to come.
We are very pleased with Barrett Contracting company. They are very organized with plan and very efficient with work. I am very happy with my deck and gazebo and I really appreciate their great work.
I have wanted a deck for 35 years and I am glad that Barrett Contracting has done the job for me.
The completed deck was way beyond our expectations. The craftsmanship still amazes us!
We gave Gus, Gabriel and team a very challenging project, and they exceeded our expectations. They did everything perfectly.
My wife and I are extremely pleased with the work done by Barrett. We would definitely recommend Barrett Contracting to our friends.
Aesthetically looks great and very durable as well. No more maintenance! This is the second job we"ve worked with Barrett Contracting and I will refer all my future decks" to you. Much thanks!
This is the third project done by Barrett Contracting and like the first two, this job was completed on time and exactly as we envisioned! We would highly recommend Gus and the team to our friends and family.
I would recommend Gus and his entire crew to deliver on any job. We will have them back soon to do our basement.
Very happy with the quality of work. Excellent work; great workers. Scott was always very friendly and helpful. Wonderful! Thanks.
We are so pleased with our new deck. It looks better than we ever imagined! Working with Barrett Contracting was a pleasure. We are so pleased with the final design and construction of our deck. Thank you for a job well done.
A pleasure to work with. Everything Barrett said they would do, they did. Since the deck was completed, I have noticed other decks in the area. None of them had the quality of craftsmanship and none had the fine details of our deck.
Very nice work, looks beautiful. We are extremely happy with our new deck and gazebo. Above all, it's a pleasure doing business with Gus.
Barrett Contracting has far surpassed our expectations! Our deck is getting rave reviews. This is the company to hire to build a quality deck! You won't be disappointed!
Thank you for a job well-planned and well-executed. We are very pleased with our deck and pleased also with the ramp at the side of the house. Gus is organized, efficient and knowledgeable and made good suggestions for dealing with unique problems. The builders were also very good to work with and the job was completed quickly and efficiently.
Both Rick and Gus are very professional and pleasant to work with. We extremely liked their presentation and computer images which make choosing your design that much easier. Without Rick's 3D imaging and design expertise, we would have ended up with a basic deck; now however, it looks stunning and we received many compliments. The crew is professional and pleasant to have around.
I would highly recommend Gus and Gabriel. They were a pleasure to work with, responsive to requests during construction and the finished project as outstanding. One of the best contractors I have ever worked with.
Well-designed deck excellent follow-up on questions and concerns. Staff was friendly and easy to work with. Pricing structure was clear and well-defined. Recommend Barrett Contracting highly to others to use for deck design and construction work!
We are VERY pleased with our new deck. Everyone has been complimenting on how beautiful it is. Gabriel and his crew are skilled craftsmen and very professional. Gus is what anyone could hope for in a contractor he's easy to work with, helpful, and returned calls promptly. Thank you all!
We would like to thank you and your team for our beautiful deck, excellent workmanship and professionalism. We couldn't have imagined the result of my design ideas accomplished by you and your team's experience and helpful insights. We will definitely recommend you to our family and friends.
All phases from estimate to completion were professional and on time. Gus, Gabriel and Rick all worked together to give us a masterpiece! I would buy another deck from Barrett!
When we picked Barrett Contracting out of all the ads in the flyer, little did we know how pleased we would be with our new deck. It exceeds all of our expectations. From the way in which you prepared the plans for Brick Township to the final touches, we were very satisfied.
An outstanding job! We can't express how happy we are with the finished product. We would highly recommend Barrett to anyone interested. Great work!
Our deck is absolutely beautiful and we've already had many compliments. We are more than pleased with how it turned out.
Not only were your prices reasonable for the design and creation of the project, but more importantly my wife and I felt comfortable with a shared vision you presented, as well as your genuine honesty as a contractor. Thank you for the great work, and years of enjoyment to come!
I wanted to drop you a note to say, thank you for the terrific job you did on the pool deck. The compliments that we have received from the neighbors combined with the personal enjoyment we have derived from our own little vacation resort are not to be believed. Once again, thank you for your fine work.
We absolutely love the deck (and everyone who sees it loves it!!) Even the contractor who worked on our old deck thought it was fabulous! And the contractor who did the staining of the boards was very impressed! We are extremely happy!